Hello and welcome to the Jackson Towers Condominium Homeowners' Association Website!
A few quick references regarding emergencies, HOA work order reporting, and billing questions:
We are here to be of service to you. If you have a service call regarding maintenance of your common area, please call our office between the hours of 9:00 a.m. and 5:00 p.m., Monday through Friday or our Customer Care Center at 1-800-400-2284, Center is open 24×7.
Anytime you are aware of an emergency at your community, other than a life threatening one, at which point you should call 911, you may contact Action Property Management 24 hours a day 7 days a week at (800) 400-2284. Our emergency after hours response team is ready to take your call and will contact one of our professional after hours on call Managers to respond to your emergency immediately.
Should you have a billing question, please contact Action Property Management's Accounting department at (800) 400-2284. You may also reference your account information by going to www.actionlife.com and clicking on the "My Account" tab on the Jackson Towers home page. Please be sure to reference your account number user name or Association property address.
Thank you for being a part of Jackson Tower's community and we look forward to getting to know you!
School of Rock & Other Theater Shows in July
Dates: 6/27 – 7/22
Tickets: On sale now
Based on the movie with the same name, School of Rock is about an out of work musician looking to make a name for himself. He pretends to be a substitute teacher at a prestigious school and in the process find the best students to form a band to compete in a Battle of the Bands contest. It's a funny and heartwarming musical that you will not want to miss.
In addition to School of Rock, you will also find some other great San Francisco events in July on stage at our other theaters. Here are just a few of the other top shows this month. Click the links for tickets at up to 50% off on Goldstar.
Boeing Boeing, a high flying musical comedy, at the Bindlestiff Studio (7/19 – 8/4)
SF Summer Opera
Cycle One: June 12 – 17, Cycle Two: June 19 – 24, Cycle Three: June 26 – July 1
Location: War Memorial Opera House
While in San Francisco, you have the opportunity to watch the second largest opera company in North America perform at the historic War Memorial Opera House in the Civic Center District. This summer, they are performing The Ring, a cycle of four German-language opera dramas. They will perform three full cycles of The Ring in June and the first part of July.
Fillmore Jazz Festival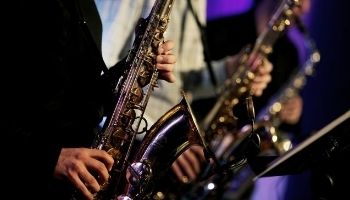 Dates: 6/30 & 7/1
Location: Fillmore Street from Jackson to Eddy
The largest jazz festival on the west coast takes place on the weekend before Fourth of July in San Francisco. This is one of the fun San Francico events in July that offers free live jazz music all weekend long. The festival also features dozens of local artists showcasing their work, top gourmet goodies from SF eateries, and other fun activities.
More: Uncover more details for this year's event
More Festivals & Street Fairs in July
SF Ethnic Dance Festival (7/14 & 7/15 + 7/21 & 7/22): Head over to the War Memorial Opera House for the annual SF Ethnic Dance Festival to see incredible performances of traditional dances from more than 20 world cultures, including Bolivia, Cambodia, China, the Congo, Egypt, Haiti, and many more. The festival takes place over three weekends, and each weekend's program is different, featuring a variety of spectacular dance companies from the Bay Area and beyond. Get more details about this awe-inspiring festival
Breastfest Beer Festival (7/14): What better way to spend a Saturday afternoon than drinking beers with friends to raise money for a great cause? At this annual event held in the North Bay town of San Rafael, you can sample unlimited pours of local, domestic, and international brews while enjoying live music. The proceeds help women fighting breast cancer gain access to therapy and treatment. Find out how you can attend this great event for a great cause
Sunday Streets (7/15): The fourth edition of Sunday Streets this year takes place on July 15 in the Mission. This is a monthly street fair that rotates among districts, bringing together the community to enjoy free activities for the whole family, live music, and streets closed to traffic so people can play freely in the area. Find out which weekends to visit which neighborhoods
Renegade Craft Fair (7/14 & 7/15): The summer edition of the Renegade Craft Fair at the Fort Mason Center features several hundred hand-selected artists and their unique work, including furniture, jewelry, clothing, posters, and more. This is a great opportunity to get new ideas and purchase the items you need for your summer redecorating projects. Get the details about this bi-annual event for craft lovers
Bastille Day SF 2018 (7/14): Celebrate Bastille Day with the Official Committee of French-American Organizations of Northern California. This free outdoor festival runs from 10am to 7pm and features the best French food, wine and entertainment. It also includes kids activities and tours of San Francisco's French Quarter. All activities will take place at the Embarcadero Plaza at Market & Embarcadero Streets across from the Ferry Building.
Up Your Alley Street Fair (7/29): This popular leather and fetish street fair is not for the faint of heart. It's one of the San Francisco event sin July that draws in more than 15,000 people each year and is dedicated to those that love leather, whips, toys and so much more. The event is held in the South of Market District on Dore Alley between Howard and Folsom.
Laborfest SF (All Month Long): Laborfest is an annual month-long event that discusses and educates the public on the struggles of everyday workers from around the world. It features almost two dozen events including documentary films, discussions, and presentations. You can also join in on their walking tours and annual boat tour. Most of the events are free or request a small donation. Find this year's schedule of events
---